SOME CHARACTERISTICS
MAKE                    MODEL
Jaguar                    XJ-SC V12
BODY STYLE
Cabriolet, left hand drive.
TRANSMISSION
GM 400  with Corvette shift conversion.
EXTERIOR PAINT
Black
INTERIOR TRIM
Saville  Grey
DATE OF DISPATCH
4th November 1985 (number 1153)
ON THE ROAD
Germany 21 May 1986
ENGINE        BORE AND STROKE
5.3 liter          90mm x 70mm
BHP                circa 330 (incl. mods)
TORQUE
Circa 380 lb/ft at 4.800 rpm (incl. mods)
ACCELERATION
6.7 sec/ 0-100 km/hr
WEIGHT        1736 kg
MODS
Koni shocks; Rob Beere air filters; AJ6 TT extractor system; AJ6 Super Enhanced ECU.
A part of the world of an Jaguar XJ-SC V12 and her owner.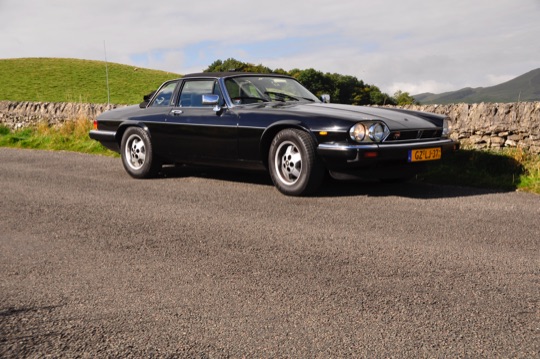 SOME HISTORY ABOUT THE CAR
The car plays an part in the Dutch movie and TV (VPRO) play:
"LOENATIK DE MOEVIE"
Restorations and signaficant maintenance aspects
New radiator, waterpump, sealings front and after, transmission rebuild, ML treatmant, some body repairs, aircon 134A, full alarm system, Kenwood masc radio, front and rear discs, bearings for Dana differential (strange but no sperr), brake master cylinder (2x)


Left after water blasting (260 psi)
Right, the new inserts
Nearly 20 years member of the Jaguar Daimler Holland Club. In the past active as chairman of the  committee for trips abroad and yet as webmaster and  XJ-S forum holder. It is a cherishing club of 38 years young, with a lot of interesting events. A lot of those activities you will find on this website.